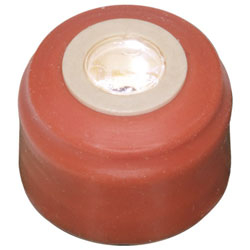 Rugged, IP67-rated cool white illuminated key switch uses state-of-the-art materials
07-04-2022 | C&K Components | Connectors, switches and EMECH
C&K has expanded its key switch product family to incorporate a cool white illuminated switch version. The K12S gloss white key switch expands on the popular, heavy-duty K12S switch series. The new cool white lighting option meets the growing demand for a high quality switch with brighter illumination for high volume industrial and automotive manufacturing.
The use of an advanced material that provides better transparency while withstanding high reflow temperatures has improved the brightness of the series switches. The switch can be customized to meet specific customer application requirements, offered in seven standard LED colors.
The switches include a sealed version for outdoor applications such as car door locks, motorcycle handles, trunk openers and other environments likely to encounter severe conditions. An IP40 version of the switch is also offered for less demanding environments. The company offers the series switches in DPST, dual contact versions with 6/12N dual pitch actuation.
"With the growing demand for super-bright switches, the K12S offers performance and functionality for your design," explained Cedric Garropin, product manager at C&K Components. "By configuring different combinations of spring mechanisms and cam designs, we are able to customize the travel distance, actuation force and contact position of switches to meet a variety of different customer requirements in the same form factor.
The entire line of key switches in the series feature gold-plated self-cleaning contacts with low contact resistance (
The series meets safety requirements for demanding applications in medical, defense, avionics or industrial equipment in the DPST configuration.