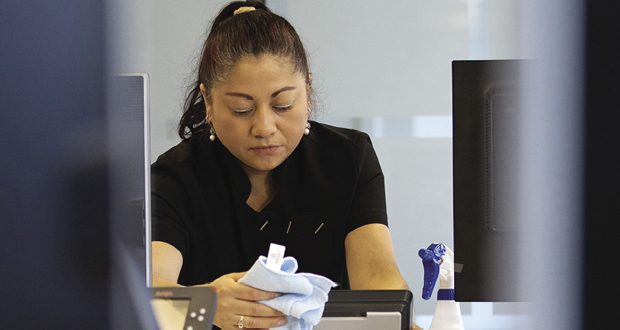 Churchill Group expands cleaning services with Parliamentary and Health Services Ombudsman
Soft service provider Churchill Group's contract with the Parliamentary and Health Services Ombudsman (PHSO) has not only been renewed for Manchester premises, but also extended to its London office.
The PHSO helps people with complaints that have not been resolved by the NHS or UK government departments and other public organisations. Churchill began its partnership with the PHSO in 2018 at its headquarters in Manchester, and this new contract extends to the secondary PHSO workplace.
The contract in Manchester has been renewed for another four years for the current team of five cleaners. In London, Churchill was given a two-year contract with the possibility of a two-year extension. A team of three cleaners are working at the London office on a program which started in May 2022.
Churchill's initial partnership included providing routine, periodic and window cleaning services to the Manchester office. When the covid-19 pandemic hit, Churchill was able to adapt its reach to support PHSO employees at the height of the pandemic, as well as to increase services when the return to in-person work began, keeping teams in safe and comfortable working in the office. For example, some tasks have changed from periodic cleaning to regular cleaning for high-touch areas.
The PHSO was impressed with Churchill's commitment to his work and his ability to adapt methods as needed. The PHSO was especially pleased that Churchill continued to go above and beyond and maintain high standards of cleaning at all times. This led to the decision to renew the contract in Manchester and introduce London.
James Bradley, Chief Operating Officer at Churchill, said: "We are grateful to the PHSO team for recognizing our excellent work and giving us the opportunity to continue to provide our cleaning services not only in Manchester, but also in London. We look forward to continuing our relationship with the PHSO.
Matthew Dean, Deputy Director of Facilities at PHSO, commented: "We are delighted to extend our partnership with Churchill for years to come as a cleaning service provider. Churchill's resilience and commitment to keeping our Manchester office clean and safe at the height of the pandemic was hugely appreciated, and we look forward to Churchill delivering the same high standards in our London office.